Experts, Grandparents, and Parents love Grandloving!
"The ultimate guide for grandparents who want to bond with their grandchildren and keep them entertained, but aren't exactly sure how."
—Barbara Graham, author of Eye of My Heart…Pleasures and Perils of Being a Grandmother
"This delightful new 5th edition is a treasure trove of ideas for grandparents. The authors have thought of everything! The book is packed with do-able, inexpensive and clever grandparenting ideas. The new "Quick Tips" at the end of the chapters are great for busy Grands, and the helpful resources make this book a 'must-have' for grandparents everywhere!"
—Janet Teitsort, author of Long Distance Grandma
"Packed full of good advice and creative activities, this is a book to be read, not merely browsed, and it should be read with a highlighter or index tabs in hand, so that you can find favorite parts again. The advice is sound, and you're guaranteed to find some activities that will appeal to you and to your grandchildren. Grandloving is infused with philosophical tidbits that really resonate with me, but the one I appreciate most comes at the very end of the book when the authors express their hope that family closeness and love will 'lead someday to a local, national and world community that takes the time to support and enjoy the uniqueness of each person.' That sounds to me like a grandparent's fondest dream."
—Susan Adcox, Editor, About.com/Grandparents
"With humor, wisdom and been there experience Grandloving has given me so many great ideas. I know it will encourage me to put on my sweats and get down on the floor where the action is! It covers everything from what to do for an expectant mom to how to connect with a grandteen."
—Gun Denhart, co-founder of The Hanna Andersson Clothing Company
"A grandparent classic—well-rounded, practical, and a complete resource!"
—Suzy Martyn, author of Enjoy the Ride:…Common Parenting Challenges
"Provides countless ways to build a loving relationship with your grandchildren. I highly recommend it!"
—Cheri Fuller, author of Connect with Your Grandkids and Daughter Duet
"Grandparenting is a unique relationship that for most of us is difficult to put into words. Fortunately, we have Sue, Julie and Beth who so beautifully capture this magical bond in this extraordinary 5th edition of their groundbreaking book, GrandLoving."
—Mr. Modem, (Richard Sherman), author, syndicated columnist, radio host, and publisher of the "Ask Mr. Modem!" weekly newsletter
"Grandloving provides a dollop of sage advice mixed with hundreds of practical recipes for fostering communication across the generations. This book should sit on your shelf next to your cookbooks. It will help you nurture your progeny."
—Dr. Ruth Nemzoff, author of Don't Bite Your Tongue: How to Foster Rewarding Relationships with Your Adult Children
"A fun collection of low-cost, easy ways to show your grandchildren that you love them."
—Mary Jane Sterne and Peggy Edwards, authors of Intentional Grandparenting: A Contemporary Guide.
"When I added Where the Heart Is by Billie Letts and GrandLoving by Sue and Julie to the titles I carried in my bookstore, I was thrilled Billie's book became an Oprah selection and GrandLoving hauled in about every award it could win. If Novalee Nation (heroin of Where the Heart Is) had had a grandmother, she would have given her a copy of GrandLoving! What more can I say other than, now they've improved it with an awesome new 5th edition!"
—Molly Levite Griffis author of nine award-winning children's books
"A well written, organized, and user friendly guide for grandparents. As a grandmother of a three year old, I have declared Grandloving a great discovery. I only wish I had found it prior to my granddaughter's birth. The book gives tips for "grand-loving" from pregnancy through the teen years. In addition to tips, it is chockfull of ideas for art projects, crafts, child friendly recipes, and easy, fun activities."
—Alayne Kay Christian, author of Butterfly Kisses for Grandma and Grandpa
"This 5th. edition of Grandloving adds more ways to be an active and welcomed (!) part of your grandchildren's lives."
—Willma Willis Gore, author of Long Distance Grandparenting.
"Flip to any page of this well-organized 5th edition and you'll find inspiration for connecting with your grandchildren."
—Donne Davis, founder of The GaGa Sisterhood
"Lucky are the little ones whose grammas and grandpas have this handbook that is so full of good, simple ideas."
—Clarice Orr, author of The Joy of Grandparenting
"Great job! And congratulations on your book's success. Not too many books can claim five editions."
—Terry Nathan, Executive Director, Independent Book Publishers Association
---
Previous Testimonials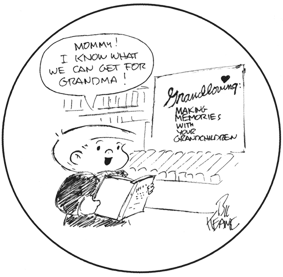 "As a loving grandfather and a cartoon creator who has never grown up, let me say Grandloving is a true treasury for every age!
—Bil Keane, creator of The Family Circus
"Sue and Julie capture perfectly that special relationship between grandparents and grandchildren in this delightfully refreshing book that is a 'must read' for every grandparent and grandparent-to-be."
—Richard Sherman, seminar speaker and author of Mr. Modem's Internet Guide for Seniors"
"Grandparents everywhere will have a ball with Grandloving! Only ten pages into the book and I was 'hooked.' This is a fun, down-to-earth collection of easy, inexpensive ways to show your grandchild how much you love them. This would make a great gift for grandparents — or buy one for yourself, Grandma!"
—Marcia Todd, Farm and Dairy
"A peppy, upbeat, easy-to-read sourcebook for making memories with your grandchildren."
—Arthur Kornhaber, M.D., author of Contemporary Grandparenting
"The more we can do to express our love, the better off we all are. A delightful book filled with caring and thoughtful ways to strengthen family relationships."
—Frances Weaver, author of The Girls with the Grandmother Faces and I'm Not as Old as I Used to Be
"Grandloving will get you through a weekend . . . it'll get you through a lifetime!"
—Suzette Haden Elgin, author of The Grandmother Principles
"Illustrated with how-to drawings, Grandloving also includes the most comprehensive resource section and index we've seen. We highly recommend it!"
—Janet Haseley, Creative Grandparenting Newsletter
"What a fantastic collection of activities--it's a splendid book!"
—D. J. McQuade-Lancaster, Coordinator of National Grandparents' Day
"Grandloving is a thoughtful treasure to give to new grandparents or even to those who have years of grandparenting under their belts. If you are already a grandparent, or are a grandparent-to-be, don't wait for someone to buy it for you; the book will be both a wonderful treat and a useful guidebook for you and your grandchildren."
—Donna Bell, Parentpages
"I found Grandloving a treasure of tips and suggestions, and not only for grandparents! Aunts, uncles, friends, teachers, childless former college roommates — all of us who want to connect with kids need its help! The authors are gentle, humorous instructors — with this book's advice we are truly ready for 'Funlove' between grownups and children."
—Molly Hunter Giles, Wolfe Publications