What do you get when you mix two cups understanding, one cup kindness, and a generous dollop of good humor? A grandparent who's ready to accept grandchildren regardless of how grumpy or outlandish they can be.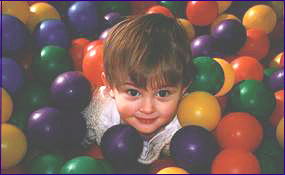 Visiting grandchildren is unlike any other sort of family experience, and it requires that grandparents be as flexible and relaxed as possible. Grandbaby Sara might be teething, four-year-old grandson Keith might be up with nightmares each night, and your little grandtoddlers may well spend part of your visit peering at you over big toys and Mom and Dad's protective arms. Not only that, but as the visitor, you'll want to realize that you are entering your grandchild's world. The best visits, it seems, result from grandparents offering the same respect and consideration to their grandchildren that they hope their grandchildren will grant when they stay with them.
Building this rapport will not be as easy as wiping your feet at the door or always offering to help prepare meals — in fact, these niceties have much more to do with your love and affection for a grandchild's parents. Instead, you'll want to construct, block by toy block perhaps, your role as one who appreciates and enjoys the world as it seems to your grandchild. You might start by asking gentle questions of your little ones about the routines that involve them. "Where does this toy go?" you might ask, as you help to pick up toys before lunch. "How does this work?" you inquire strategically, as you try out the unfamiliar dishwasher or coffee pot. Our toddler Nick loves it when his grandparents ask him how to find things around his house — and it's a great way to make a true friend of any little despot.
Perhaps the biggest bonus of establishing this respectful rapport with your littlest grandchildren is that they will begin to trust you deeply. Your priceless reward will be the moment when your grandtoddler, with wonder in his face, takes you aside to tell you a "secret" or a little story about his teddy bear — or when your preschooler grandchild tells you about his favorite teacher with a shy smile. What a wonderful feeling for both of you — and a great foundation for the days when your older grandchild has more weighty matters to discuss.
---
Being Memorable Away from Home
We couldn't resist chuckling the other day as we were in line to ride the swan boats at the Boston Public Garden. A visiting Grandpa who was waiting with his grandchildren was really hamming it up. "What's your name again?" he said, pointing to his giggling four-year-old granddaughter. "Don't feed the people!" he hollered agreeably to the people looking over the bridge at us. "Where do you think those ducks sleep at night?" he asked his awe-filled two-year-old grandson. Something about the way this Grandpa let it all hang out was both fun and inspiring to us. We know this is one grandparent who will spark new opportunities for learning and closeness throughout his grandchildren's growing-up years because his banter was simply irresistible to his little ones.
It may surprise you to realize that your personality, just like this Grandpa's, is portable. Oh, we know. You think that you're toting your whole self around when you visit your youngest grandchildren. But think how much more reserved most of us feel when we're separated from our familiar home. We may feel at a loss for what to do in a community away from our own favorite museums, libraries, and local happenings. Moreover, we may need to give ourselves a pep talk before we leave so that we overcome our hesitancy to become fully involved in whatever your grandchildren dream up. Try spicing up your visits to a grandchild's home by doing a bit of homework first, and then by"putting your whole self in." You'll find yourself doing more than the hokey-pokey — whole new opportunities for closeness with your grandchildren will appear. And after all, "that's what it's all about!"
Nursery School
Preschool and daycare experiences provide wonderful opportunities for sharing. Just don't be surprised if you end up being a Grandpa or Grandma to the whole class for the day, because little ones just love the idea of having a loving senior among them. Just be sure to ask the teacher if it's all right for you to join in (you're sure to get an enthusiastic response unless another special event was planned). You can then sit right down in those tiny chairs and chat along with the youngsters as you all play with playdough, art materials, or games.
You might also take the spotlight with your grandchild during the class group, or "circle," time — if this is something that interests you both. After passing your ideas by the classroom teacher, you might read a story or sing a song (perhaps with a musical instrument) that you and your grandchild have chosen together. This way your little one will have a chance to introduce you and perform for the others with your support.
Sometimes, too, schools have special grandparent events that you might want to attend. Next time you're dropping off or picking up your grandchild at school, be sure to introduce yourself to your grandchild's teacher, if you haven't already, and ask about any parties or get-togethers to which you might come. You might even be able to fill in as a special guest for parent events if an unavoidable conflict prevents Mom or Dad from attending.
Play with the Babysitter, Too
Perhaps your grandchild has a regular babysitter, with whom you can attend a sing-along concert or story hour at your local library. Getting to know the adults who are important in your little one's life shows that you want to understand their world. Your acceptance will also help your grandchild feel more confident about his affection for this other adult — which is not only an important comfort but also reassures your grandchild that it's healthy to enjoy being with people outside of the family.
Rapping with the Littlest Gang: Your Grandchild's Friends
Children grow up fast, it's true, but your under-five grandchildren are as likely to be hippity-hopping as hip-hopping these days (thank goodness!). So trust your instincts and see if you can finnagle an invitation to play. You could pop your head around the corner as your four-year-old grandchild is playing with a friend and suggest a simple cooking project (see Chapter 4 of Grandloving for some suggestions). Or try walking around with a mask or simple facepaint design and see if your curious little ones and their friends ask to do the same. Even simply asking gently to join in their game can open the door to a fun afternoon of conversations and silliness as you add your grandparent imagination and ideas.
The respect and love you nurture by being an interested and responsive grandparent will give you access to a world you may only vaguely remember — a world of suspense, drama, and fun that revolves around events and ideas we now take for granted. You may never have dreamed that the swirly patterns made by cream as it's added to coffee would be the backdrop for such intense curiosity by your little one. You may find yourself reading stories to favorite toys while you cuddle up to your grandchild — Nick insists that his "choo choo" enjoy all his favorite books, too. And what a wonderful feeling to be surrounded by a playgroup of little ones, all eager to make muffins or playdough. Immersing yourself in a small world is one of the richest rewards of grandparenting.
---
The Magic of Unconditional Love
We know, we know. This all sounds great, but some of you still feel inhibited about being childlike with your grandchild. We, too, took a while to jettison those old self-conscious feelings. But now that we have, we just can't let you lug around that outdated excuse — truly playing with grandchildren is just too much fun and too important for everyone.
And if you don't believe us, believe B. R. of Fairport, New York. Her young granddaughter asked her how her diet was going before an upcoming visit. Barb replied, "I'm trying, but it looks like I'll be bringing that same old body." Her granddaughter's adorable, tinkly voice answered, "That's okay, Grandma, we love that old body!" Come on, fellow grandparents, you can do it. Toss aside your embarrassment about how you look playing in the sandbox or giving your special bear hug at the nursery school door and revel in knowing that your grandchild only has eyes for the wonderful person you are inside. That's the magic of the love between grandchild and grandparent.
---
Grandloving Activity Idea: Tub Tile Art
Finger painting was never so much fun, and you're going to love the way this one cleans up!
Ages: Eighteen months to five years
You'll Need to Tuck in Your Suitcase:
* An envelope of unflavored gelatin
* Bag of 1/2 cup cornstarch
* Food coloring
Here's How:
* Soak the gelatin in 1/4 cup cold water.
* Stir the cornstarch into 3/4 cup cold water.
* Bring 2 cups water to a boil and then slowly pour it into the cornstarch mixture, stirring constantly. Bring this to a boil over medium heat and cook and stir until the mixture is thick and clear.
* Add and stir in the dissolved gelatin.
* When cool, pour into separate containers--a plastic egg carton works beautifully--and add a few drops of food coloring to each well.
* Fill up the tub and turn 'em loose.
* Though the artistic efforts won't last, it'll be a snap to clean it all up, and with the promise that they can do it again another night, no one will mind when it's all washed down the drain!
---
Grandloving Activity Idea: Body Double
Maybe you'll even be allowed to take this life-sized replica of your beloved little one home with you!
Ages: Two to five years
You'll Need:
* Large sheet of paper
* Crayon or marker
* Colored construction paper
* Scissors
Here's How:
* Have your grandchild lie down on the large sheet of paper and then trace all the way around your little darling.
* Cut out the life-sized body double and turn your grandchild loose with the crayons and construction paper to "clothe" and decorate the body.
* Be sure to hang it up for all to admire.
You might want to make this an annual ritual--it would be fun for all to see the growth from year to year!
---
Grandloving Activity Idea: Grandpa's Shaving Cream Creations
Gleeful giggles and a memory of fun with Grandpa are guaranteed with this one!
Ages: Two to five years
You'll Need to Tuck in Your Suitcase:
* Grandpa's shaving cream
Here's How:
* A high-chair tray or a large cookie sheet makes the perfect table for this activity.
* You could even add the few drops food coloring to the sweet smelling, billowy mound of shaving cream.
* Let your little darling experience the smooth, irresistible feel of gliding it around the tray.
* This can even be a super activity for bath time, or try finger painting on a mirror and play "peek-a-boo."
* Be sure to encourage use of fingers, knuckles, palms, fists, and toes!
* Try warming the shaving cream in a pan of hot water for a soothing experience.
> Be sure the shaving cream stays out of the eyes, and thoroughly wash hands when through.
---
Grandloving Activity Idea: Paintless Painting
Introduce your enterprising painter to the joys of no-mess, outside water painting! Ages: Eighteen months to five years You'll need to tuck in your suitcase:
* A large paintbrush Here's How:
* Fill a large bucket or pan with water.
* Hunt for fun things to paint outside with the water such as the house, the sidewalk, rocks, a tricycle, bricks, etc.
* Watching things darken as they get wet and lighten as they dry will delight your enterprising painter!