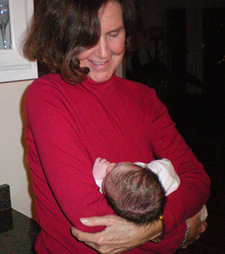 Some of the best ideas for gifts and love messages cost very little and can help you to connect with your grandbaby even before you can rock and cuddle. You might want to sing or hum your favorite lullaby into a tape or send your music cassette with a request that the mom-to-be put headphones on her tummy. After all, it's never too early to influence your grandbaby's tastes and make a personal connection. When the baby can fall asleep only to Glen Miller or J. S. Bach, you'll know you've done your part to counteract whatever musical mush is popular when she turns teen.
A Perfect Fit for Growing Parents-to-Be
For a first-time Mom, encouraging words can be a perfect gift. As you might remember from your own expectant days, moms — and sometimes dads, too — have an insatiable appetite for absolutely everything, including books on prenatal and child care, breastfeeding (if this is an interest), and labor and delivery. Or send your own thoughts about these issues and a box of clippings you've saved from newspapers and magazines. One of our friends in upstate New York collects sayings and advice about childrearing over the years and offers it as a wonderful gift to families when they are expecting.
Moms-to-be will appreciate maternity clothes at any point in their pregnancies, although timing clothing to arrive right before they'll fit best is a good idea. Julie was incredulous and a bit horrified when she saw the maternity bathing suit Rick and I sent at the four-month mark; it wasn't until she called and said enthusiastically, "You'll never believe it, but that huge suit fits everywhere now!" that we knew we'd sent something useful. It's also nice to notice what style of maternity clothing she's choosing for herself before you package up that wild safari print dress or — even more controversial — that top with the pink and blue teddy bears.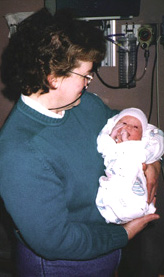 For the dad-to-be, you might send a tiny, battery-operated reading light so that he can read in bed without disturbing his partner's sleep, or letters and articles about being a father. Even purchased books about becoming a dad can be meaningful if you take the time to add an inscription inside.
Words and Images Can Be Heirlooms, Too
Yet another way to show your daughter or son how much you care during the pregnancy is to save communications from them during this period. You might try to hold on to the notes and emails they send — or even to tape-record their phone calls home with an answering machine. Several grandmothers with whom we talked kept their own diaries during their daughter's pregnancy, and each became a priceless gift to the family after the birth (see the activity "Capturing Daydreams and New Discoveries" below). Delta Fuller from Kennebunk, Maine, said, "I kept a journal from the first we knew of the baby called 'The Year You Were Born.' Seth was born in September and I kept the journal until Christmas. Christmas Eve was the last entry and the journal was a gift to the new Mom and Dad on Christmas Day." In our own family, e-mail messages from Mom to Grandma were secretly saved and presented at the first prenatal visit. It was a gift no one else could give, and for Julie receiving it was one of the many emotional highlights of becoming a new mother.
If you can afford it, one way to help bridge the long-distance gap is to give your child a video camera to capture the images of new parenthood before and after the birth (some families even film during the delivery). Lois and Jack Perlowski of Sanibel, Florida, sent their daughter a camcorder during her pregnancy. "Our hope is that they will faithfully send videos of the various stages and fun times which we miss due to distance." We guarantee that no other audience will appreciate the footage of the mom-to-be's growing belly as much as you will. (In fact, that's one video probably to leave unlabelled on the shelf!)
If both parents and grandparents happen to own a home computer, email is another way to speed messages back and forth. With a modem and a membership in Compuserve, America OnLine, Prodigy, or another communications service, you can shoot short notes or long letters to each other for little continuing cost (about ten dollars a month). We found this method a super way to keep in touch during the pregnancy and an invaluable service when the newborn arrived. Email messages are less intrusive than a phone call (the message waits in your electronic mailbox) but are nearly as immediate. In addition, we tended to type along much as we speak rather than labor over words as we might have in a letter.
If you are not yet computer literate, don't be daunted; there's no time like the present to learn a truly easy new skill and rekindle your relationships at the same time. Put your turn signal on and merge onto that information superhighway — it's easy and fun!
Don't Just "Layette" on Me, Grandma!
"UPS!" hollers the delivery person, confirming the low drone of the truck outside and the thunk of package on package on the front steps. Our heroine, nearly nine months pregnant, waddles to the door and gives her electronic signature. While she considers how she's going to get these things inside without lifting more than ten pounds (her doctor's limit for this stage of the pregnancy), her eyes scan the labels. She discovers, with a half-smile, that her loving parents and parents-in-law have gone berserk again.
We know. Those miniature pajamas and T-shirts are irresistible. And somehow each new baby product you see seems like the perfect solution to some terribly important baby-care need (though, come to think of it, you seemed to do fine without many of them in your day). Furthermore, your children seem so grateful for all the things you send. But one way to make sure you're not overdoing when sending baby things is to ask what's needed or anticipate only with gifts that have sentimental meaning. Wrap up that special baby blanket of your son's for his first born to use, perhaps, or start sifting through your collection of books for young children for an old favorite of your daughter's. New clothing with a bit of embroidery added by you, or a purchased wooden toy car with a "Grampa" license plate brushed on with childsafe paints are just two examples of how purchased gifts can take on new significance. The parents-to-be will be sincerely moved by your efforts, and you will have fulfilled your hopes of giving them something they'll cherish.
---
Grandloving Activity Idea: Capturing Daydreams and New Discoveries
Start this project as soon as you can after learning you're going to have a grandchild. This is a wonderful way to provide lasting memories for the parents and new baby.
Age: Conception - Newborn
You'll Need:
* A folder in which you save letters, emails, or any correspondence from the new parents-to-be
Here's How:
* Keep a notebook jotting down notes from any verbal "baby" discussions you have with the new parents-to-be.
* Add this to the collection of saved letters, emails, or cards.
* Present it to the new parents when the baby arrives as a diary and remembrance of the pregnancy.