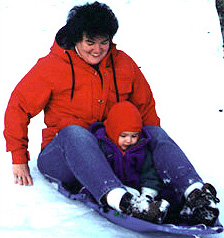 Sometimes in the hubbub of family get-togethers, the littlest grandchildren can feel left out. One cure for this is to add a grandchild-oriented twist to whatever you do. M. Knaflewska told us that "in Poland the big Christmas Eve dinner can't begin until the youngest child in the family sees the first star in the sky." E. and J. Donzey from Munich, Germany, related, "If a young family doesn't have glass tree balls, the grandparents might help the grandchildren wrap chestnuts in aluminum foil or make stars out of straw to hang on the tree." And if your family doesn't yet follow the tradition of allowing grandchildren to open a small gift each night during Hanukkah, you can design your own variation of this lovely ritual.
Hosting family during the holidays is a lot of work, and children will feel needed and rewarded if they can help, too. With a dishtowel apron to catch spills, your preschool-age grandchild can wash the veggies, oil and flour a pan, or knead bread dough. One way to make cooking even more meaningful — and distinguish the contributions of each grandchild — is to designate a special serving dish for each grandchild that holds a food they helped to make.
Grandchildren love to decorate their world, and holidays are a time when their imaginations are in high gear. You can harness their creative energies by enlisting their help to decorate your home, too. Have them make homemade decorations to display, help put up sturdy decorations with your assistance, or design bows for a pet to wear for the celebration. We're sure any hesitation you might have now about the results will wash away when you see the enthusiasm of your grandchild and everyone's pride in your little one's efforts.
Perhaps by now you have a bedtime ritual with your grandchild that is unique to the two of you. Now is your chance to add a little holiday fun to that routine. Check some books out of the library about your holiday. (If you're really ambitious, you can record one of your readings and the conversation you have about it with your grandchild to bring out and enjoy next year.) Leave a little love note under your little one's pillow in a holiday shape. Or sing your grandchild's favorite holiday songs in a whisper-soft, sleepy voice as a lullaby.