It's what puts topspin in a grandparent's letters and pizzazz in their calls. Whenever you energize your relationship with unique stories and games, you make yourself more interesting and memorable to your little one. So get ready, grandparents. We're going to give you the tools you need to make your relationship with your grandchild actually improve between visits!
1. Action! Photos and Movies to Captivate Your Grandchildren
Photos tell a story to even the youngest grandchild. Laminated onto construction paper or wrapped in clear contact paper, a display of family pics becomes a "night-night board" to kiss before bed. Pasted onto a plain paper background cut into an interesting shape (house, boat, island), a vacation snapshot invites your little one to color a special frame. Videos of yourself in action will entertain and teach your young grandchildren, too. For the littlest grandbabies, try filming yourself playing peek-a-boo from behind a chair or couch, saying "So Big" with arms stretched upward, and singing "Twinkle, twinkle, little star," "Open, shut them," and other classic children's songs. Grandchildren ages two and three will enjoy a video "tour" of your home, especially before a visit. You can even prepare your grandchild for their stay by showing them the park, library, and other places in the neighborhood they'll see with you. Or give those little ones a rainy-day alternative to Disney with your own production of a children's classic tale — they'll love it!
2. Connecting by Phone with Young Chatters
What was the name of that scrappy neighbor child who worries your granddaughter so? And do you remember the names of your grandson's teacher and best buddies? Asking open-ended questions, paying special attention to feelings, and respecting your little one's ability to solve some problems alone will draw out your grandchildren and show them that you really are listening. You might even keep a little pad by the phone to help you remember. Keeping track of these details shows that you're listening and that you really care.
3. Grandloving in Cyberspace
If you and your little one both have home computers and sign up for an internet service (such as CompuServe, America OnLine, or Prodigy), you can zip electronic mail messages back and forth. It's so easy to type up a message, and so gratifying to have it delivered immediately, that you will find yourself writing frequently and about everyday events that often don't make it into a letter. If you want to be really hip, you can buy a fax modem that will send images to be printed, colored on, or simply displayed. In our family, pictures "drawn" by grandchildren are passed to the computer memories of the grandparents, and "slide shows" of scanned-in photos become backdrops on the computer screen. If your computers have sound cards, you can even send sounds back and forth (Nick's toddler giggle is the "error alert" on our computer). If you don't have a fax, try sending and receiving through your local copy shop or other fax support store. The possibilities are endless, and they can make a long-distance relationship seem at times as close as next door.
4. Take a Walk on the Wild Side: Nature Activities for All Ages
Ever wondered what to do with your old socks? Try sending them to your grandchildren with a note to "run around outside and see what sticks." The burrs and seeds that get caught during this sock walk will be exciting to plant, and you won't believe the fun you'll have talking about the caper by phone. Between visits, when you can't smell the flowers together, try growing some in identical gardens and comparing notes by mail; exchanging seeds; or sending a magic rock or two for a bit of gardener's luck.
5. Coins, Stamps, or . . . Spiders? Starting a Collection with Your Grandchild
Perhaps your little one, like Bert on Sesame Street, will delight in hoarding paperclips and bottlecaps. Maybe your older grandchildren will have a knack for spotting interesting leaves or stamps to catalogue. Or perhaps you both have a passion for fishing, woodworking, or trying out fancy recipes (or anything that uses chocolate chips) in the kitchen. Whatever your grandchild's interest, you can build on it — -and add your own twists — by starting a collection or nurturing a hobby together. That elaborate creation in the basement may turn out to mark the beginning of a young engineer's career, or a lifelong appreciation for a fulfilling pastime. But most important will be the experience of learning something new alongside a caring, involved grandparent.
6. Signatures with a Twist
Grandbabies in our family don't have to read to know something's from Oma — they smile as soon as they smell her perfumed envelopes. And a winking, happy face from Grandpa is their cue to see what's inside. Developing a personalized "signature" like these will help you reach even your youngest grandchildren and will start a unique family tradition that even teens won't want to end. You can extend this idea to any kind of communication — try inventing a unique way to say goodbye on the phone, a smiling sideways "face" at the end of an email message (try a parenthesis and colon), or a special sticker or stamp that lets your grandchild know the package is from you.
7. Bubbie's Coming! Special Ideas for Before and After Visits
Antipating the fun of a visit with a creative picture "calendar" will captivate your young grandchildren. Simply draw a big box for each day of your visit — or their visit to you — and decide together what you might do that day. With words, imaginative drawings, or photos, this wish list of activities to share can be passed back and forth until you're together again. After your visit try extending the fun by leaving love notes or small gifts — if you send a "treasure map" afterward your little pirates will be thrilled!
8. Rewind, Fast Forward, Play: Grandpa's Telling a Story
We know, we know. You're not a professional storyteller. Come to think of it, even your singing voice, which was passable in the fourth grade chorus, now sounds like a World War II bomber in heavy turbulence. But wait. Your voice, whether confident or shaky, couldn't be more special to your littlest family members. Read a story, sing a song, sing a story, read a song — any combination will do. You might also read (or rap!) a nursery rhyme, talk as you make a favorite recipe (you can send a tasty sample in the same package), read off a list of "I like you because" statements, or even make a tape of sound "riddles."
9. Games, Puzzles, and Add-On Stories
Mystery, intrigue, drama... there's a package from Opa in the mail! Whether you try your hand at "magical mirror messages" (written backwards), make your own special letter codes, or start a story that can be exchanged until one of you creates a thrilling conclusion, playful games like these can recharge an established long-distance relationship. One such trick that we especially love is to buy a blank puzzle, write and draw on it, and then divide the pieces to send in two or three separate envelopes. A similar idea for young children is to write or draw on an inflated balloon and deflate it; your surprise picture or note will reappear when Mom or Dad blows up the balloon again.
10. Bookin' Along with Grandpa and Grandma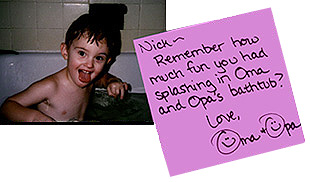 Whether you start with a bunch of plain papers stapled together or a purchased "blank book," the unique spin you put on your cooperative creation will make it a prized record of your thoughts and times together. Think of it as a "time capsule" of your relationship that can be enjoyed throughout your life — and your grandchild's.
Here's one foolproof way to get a project started: ask them what ingredients they would put into their cookies. Applesauce? Pepperoni? Oatmeal? Whatever imaginative response you get, jot it down with others in a shared recipe book. You might want to put a favorite "real" recipe on one side and your grandchild's whimsical version on the facing page. Pictures you draw of the two of you cooking together will make perfect illustrations.
A journal for each grandchild is also a wonderful way to share your thoughts and hopes. But this little journal is not for you to look at alone. Instead, let your grandchildren rediscover theirs each time they visit (or every time you visit them). Your young grandchildren will delight in hearing all that you've written, and you will have the satisfaction of having created the most personal keepsake you can for each of your little ones.